If you look back at my last few posts here you may have noticed some social media promotion involving selfies and poster board signs. This modest attempt at attracting attention is a new tactic for me, reflecting my new approach to The Daylight Complex and music making.
When I moved from Boston to New Orleans last year my intention was to shake things up. The Daylight Complex has generally released music at a glacial pace, and I'd really like to become more prolific. Moving from one great city to another great, but very different, city has taken me out of my comfort zone. I find that edge of discomfort helpful creatively.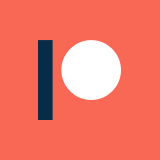 I also decided to fully commit to crowdfunding. Crowdfunding will theoretically help me to reach my two major goals:
Release music more frequently.
Grow my audience.
Patreon in particular appealed to me because it's not just a one-and-done crowdfunding situation. Patreon encourages an ongoing relationship between the artist and the audience. Which is exactly what I'm looking for. (You can find out more about how Patreon works at patreon.com.)
For all of the above reasons, my new song "Romans" is special to me. To be honest, I'm not sure is "Romans" is good; I'm too close to it right now, and having just recorded it all I hear are the flaws. However, this song represents a new start for me and my music. It's my first recording in New Orleans, and my first recording for Patreon. Here's an excerpt:
This entire song, as well as upcoming future songs, can be heard on Patreon. Come join us and celebrate this new beginning for The Daylight Complex.
---